---
People often ask how we get such amazing results for our client's targets?
With tangible targeting platforms, although it may sound a bit out-of-date, tangible results are impressive, even more so today.
Quite frankly, tangible touch points are more effective now than ever before, and there's good reason for it.
Here's some details, and examples …
Though it may seem a bit counter-intuitive, it's rather easy – the targeting tactics work, better than ever. Adept marketers frequently use our solutions for many targets, and this spans everything from thought leadership platforms, sales assets, multi-touch prospecting platforms, affluent marketing, trade shows and conventions, pharma point-of-care, and more.
Yes, it may seem a bit obtuse – people will often put so much emphasis on the magazine (like inside book advertising), they forget it's really direct marketing. Thus, it's never about the magazine – it's always about the target.
The magazine is only a simple delivery device, the envelope that gets vital messages in your target's hands. And, for good reason, the magazine is also why your 'envelope' is warmly received, appreciated. People like to be recognized – it's very basic Psychology 101.
It's a trojan horse, and very reliable … a valued tactic that delivers ongoing messages directly into the hands of the exact customers and prospects (targets) you care about reaching the most, those you want to cultivate most.
It's not a 'mass' medium – it's all about the exact placement, any niche target, and content that matters, i.e. appreciating relationships you value in business, for acquisition and retention, both short-term and long-term growth goals.
Yes, for any target you can fathom, you literally deliver your custom messages placed on the covers of high-value magazines and, then deliver your call-to-action content, even for direct-to-digital platforms. And, you do so reaching them in-home, in-office, or in any collection of geo/demo retail locations or doctor's offices. It's precise, and compelling.
It's bold. It's precise. It's compelling. And, … it's very much appreciated.
These campaigns deliver reliable results, and sales teams who've used cover wrap assets LOVE their campaigns, and even more today.
Our best prospect is a Sales Director, as he/she understands the pain-points of reaching vital targets, which is very difficult these days. It delivers highly valued touch points.
KEY TARGETS: B2B, AFFLUENT HH's, PHARMA, RETAIL & SMALL BUSINESS
Q: How often do your customers say 'thank you' for blasting them on social media? … A: Uhhh, likely never. Never.
"OVERWHELM is not the best path to improved customer targeting, at least the kind that delivers smart results." – CMO, F500 Technology Provider
With value-added precise database targeting, our client's targets appreciate them for including them, and they say thank you – thank you.
And in waiting areas, customers appreciate the info shared in close proximity to their dentist, veterinarian, doctor, barber, hair stylist, i.e. any secondary influencers for the products or services you're promoting – geo/demo targets.
It may sound complex yet, essentially, it's a very simple process … we deliver it for you turnkey, and do the heavy-lifting for our client, and agency and magazine partners – it's a very well-constructed and sequenced plan.
For smartest messaging, we recommend a human 'message' be included, a personal 'letter' from one of your key executives, your CEO or other leaders, influencers – it's the human 'voice' of your company, i.e. human-to-human.
Your cover wrap content is consumed more consciously, and for longer periods of time (vs. digital), for example. It's the gift that keeps on giving … and it's why people appreciate it so much, chosen for VIP customer status.
It's relationship-building at the core, very effective to develop long-term loyalty, valued customer sales, and to engage your targets online as well.
The value of 'co-branded' content cannot be underestimated – it literally lifts your brand via the association, and your multi-page cover units are visually stimulating. Thus, they cause a natural inclination to engage the info shared. They fee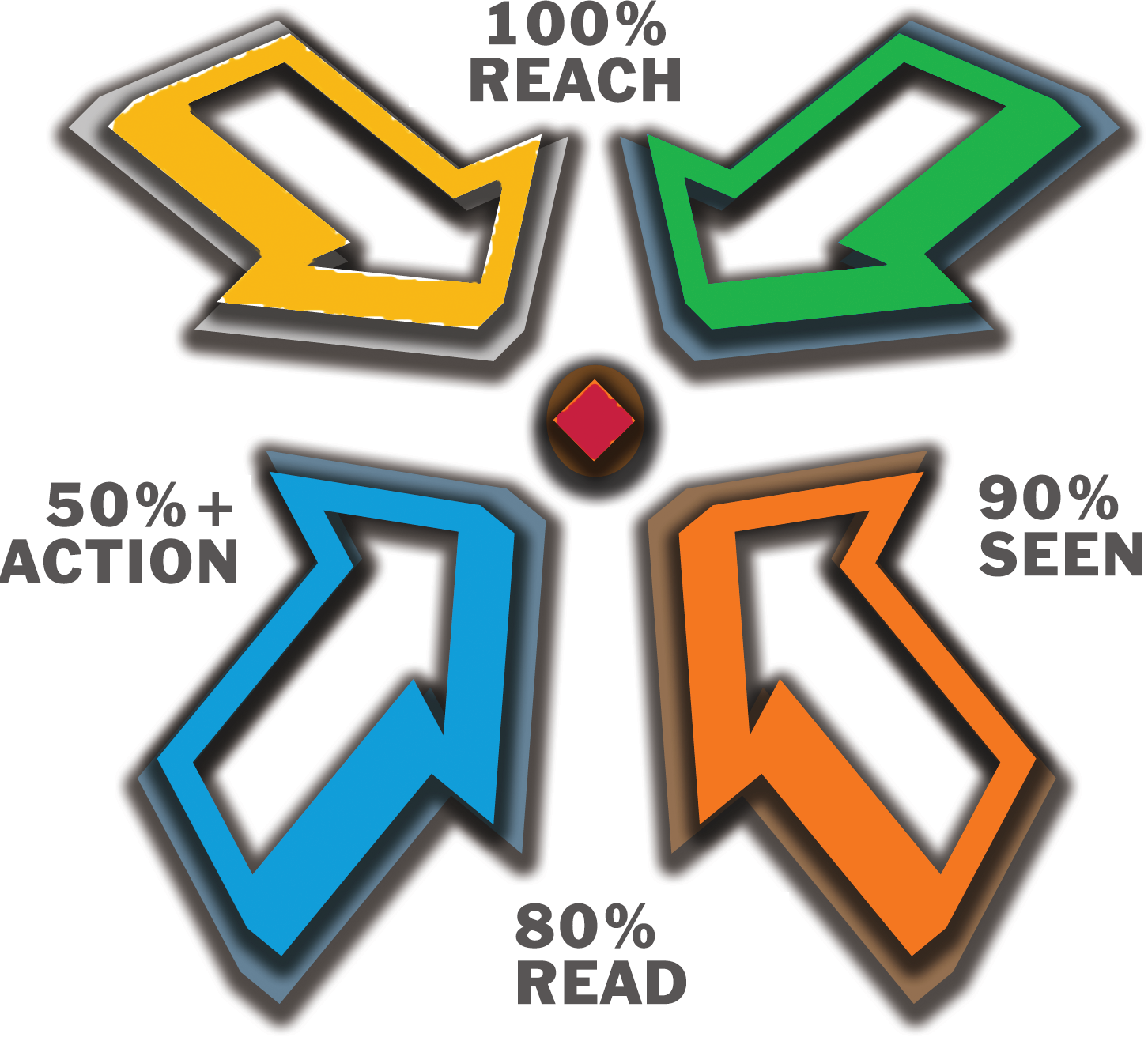 l special, and 80% readership is a expected, proven with many audience types.
Smart Bridge-to-Digital via NFC Tags or Video Content Updated Delivery
You can now digitally 'tag' cover wraps with devices like NFC, Digimarc, video, buzz cards, and creative units like gatefolds, textured printing, variable printing, and pullouts too. It's kinda like, what's old-is-new-again, but with all the newest innovations added as well.
It's simple. Your messages stand out, far above your competition. You get noticed and, you'll cut-the-clutter of digital too, causing relationship value.
Those who receive your special issues are first notified via an announcement letter or card, i.e. "please enjoy receiving Fast Company magazine" … for example. Your gesture stands out, gets noticed, and delivers an ongoing series of productive touch points, which builds interest, loyalty, reciprocity and sales.
As an example, a tech client recently targeted 2,000+ high-level CIOs, all of whom were enterprise or channel targets. Within only 6 months of this campaign starting, the client reported a 56% engagement, compared with their digital engagement stats, which was considerably less potent and more costly per event.
Their sales force was elated, got the bounce they needed and, they renewed their next year six months earlier than needed, simply to lock the inventory with our magazine partner.
It worked well, and they've continued for three consecutive years, and they will renew, because of reliable results.
We also build retail platforms in any footprint of geo/demo targeting, i.e. spas, hair and nail salons, auto dealers, tattoo parlors, country clubs, athletic facilities, coffee shops, and any of 200+ location types – each chosen by exact geo/demo radius, demos, address, zips, etc.
15 Examples of Highly-Targeted Magazine Cover Wrap Campaigns ?
Let us know if you'd like to learn more.
When the targeting objectives fit, there's nothing like the precision of magazine coverwrap campaigns to deliver smart results. It's a direct marketing tactic that's often misunderstood and, we hope to assist your biggest ideas.
If you'd like to learn by phone, we promise – your time will be valued and, at least, you'll know more about an effective direct marketing.
Understanding the full potential of these options is smart, for all marketers today (even digital marketers) and, especially when used tactically as with the examples shared above.
When engaged for the right targets, with powerful messaging sequenced over time – that's how we deliver valuable client results.
Please reach out if you'd like more info, new ideas, or to chat with one of our 40 client leaders. They are adept with the most-valued and productive targeting. We'll first want to understand your targets better, and your goals, and will provide recommendations (unless it's not a fit, and we'll let you know that too) ??
---